Electric steam generators GE Line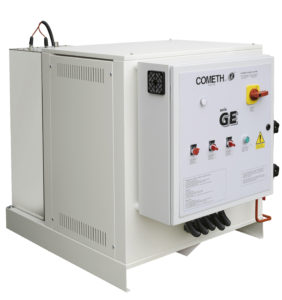 Our electric generators are particularly suitable for use in small agri-food structures, designed in compliance with international safety standards, they are compact, of limited size, completely automatic and autonomous.
They can be made with a carbon steel boiler body or entirely made of stainless steel, they are able to produce absolutely clean steam.
The problem of consumption has not even been overlooked: every electric heating element is autonomous; in other words, it is possible to insert all the elements simultaneously and, in the case of low steam usage, individually.
Recently we have also developed a whole machine management system through PLC control, with which you can program the differentiated ignitions of the resistances as well as the shutdown; the pressure of the generator is no longer managed by the pressure switch but by an electronic pressure detector that interfaces with the PLC (all Siemens material) that continuously reads the status of the boiler and switches the resistors on and off based on what is actually consumed by the various utilities, also preventing high amperage peaks.
Technical information
| | | | | | | |
| --- | --- | --- | --- | --- | --- | --- |
| | 12KW | 24KW(12+12) | 36KW(18+18) | 54KW(18+18+18) | 75KW(25+25+25) | 90KW(30+30+30) |
| Steam production | 18 Kg/h | 36 Kg/h | 54 Kg/h | 81 Kg/h | 100 Kg/h | 130 Kg/h |
| Power | 12 Kw | 24 Kw | 36 Kw | 54 Kw | 75 Kw | 90 Kw |
| Dimension | 86X114X94h cm. | 86x114x94h cm. | 86x114x94h cm. | 86x114x94h cm. | 86x114x94h cm. | 86x114x94h cm. |